This week on Facebook has seen a proliferation of travel maps, tool from Matador Network that lets you see how many countries you've been to. A lot of my friends have shared theirs, with little comment except: "Must do more."
I myself have "Visit 100 countries" on my bucket list, in addition to visiting specific countries and places like Mongolia, Tibet, the Great Wall of China. When my friend and I had two weeks in Central America, we raced across four countries; last year in South America, I covered eight countries in three months.
So what is it that makes us feel that we should visit more countries? Chris Guillebeau, who started his blog around his experiences of travelling to every single country in the world – 193 countries over 11 years – called his journey a Quest. We're looking for adventure, for physical challenges; to see natural and manmade wonders like the Grand Canyon and the Taj Mahal; to learn a language, discover new cultures, taste different food; sometimes we're looking for escape, from a painful break-up or a redundancy; and we're simply looking for a change.
There are some, of course, who prefer to spend more time in one country, getting to know a place and its people. I have a friend who goes to Thailand at every opportunity, my mum loves nothing more than going back to the same resort once a year, and all those with sailboats and holiday homes spend a lot of time there rather than going somewhere new. It means you know what you're getting, you can hit the ground running and be sure to have a great holiday. I even sat next to a guy on the plane this summer who said he much preferred staying at home.
At the other extreme, the manic urge to see more countries can come at the expense of truly experiencing each one. Counting a business trip on which you never left the conference centre, or spending a day or two in a country just to tick it off your list, is hardly doing it justice. My worst crime was in Liechtenstein: intending to have lunch there (ideally in the restaurant frequented by the richest prince in the world), I had driven through this tiny country in minutes. In the end, I had to stretch my leg out of the car at the crossing into Austria so that my foot could touch Liechtenstein soil. Yes, it counts! But, yes, it's a little bit cheating…
I don't feel rushed, though. I think I've developed the perfect pace, for me, when I'm travelling. I go to bed when I'm tired, I wake up naturally without an alarm clock; I plan a few excursions each day, some days more action packed than others; I have time to sit in a park with a notebook or stroll along the river with my camera; and I don't give myself a hard time when all I want is a latte and some Wi-Fi. I feel like I'm making the most of my trip without rushing through a list of must-see attractions.
Looking at my friends' maps, it's interesting to consider the choices that have led to their particular configuration of countries. Often, we've travelled to the other side of the world but ignored our own backyard. I was shocked the other day to hear that my Australian friend had never been to New Zealand – but, then, I've never been to Ireland, despite spending 20 years of my life in the UK (an anomaly that I will correct next year!). Another friend in Brazil has similarly not explored the rest of South America.
It also depends on what you're after: beaches and surfing? Mountains and hiking? Museums and temples? Adventure or relaxation? What languages do you speak? Are you comfortable travelling alone or do you need to go somewhere your friend or partner also wants to go? Where do you have friends that you can visit? My choice of destination is the result of an algorithm taking into account the time of year, the cost of flights and, of course, my bucket list.
So, here we are, my own travel map. I've been to 51 countries so I'm just past halfway to my goal of 100 countries. I plan to visit at least two new countries every year – this year it was Malta and Malaysia. In fact, it's getting harder to cross countries off, with few nearby countries left to explore. In addition to Ireland, I'm quite tempted by Iceland next year (I seem to be going by the alphabet); and maybe Canada, a little further afield. Small countries help you tick off more on your list, but the countries with large surface areas look more impressive on a map! So I'm thinking Canada as well as Greenland and Russia…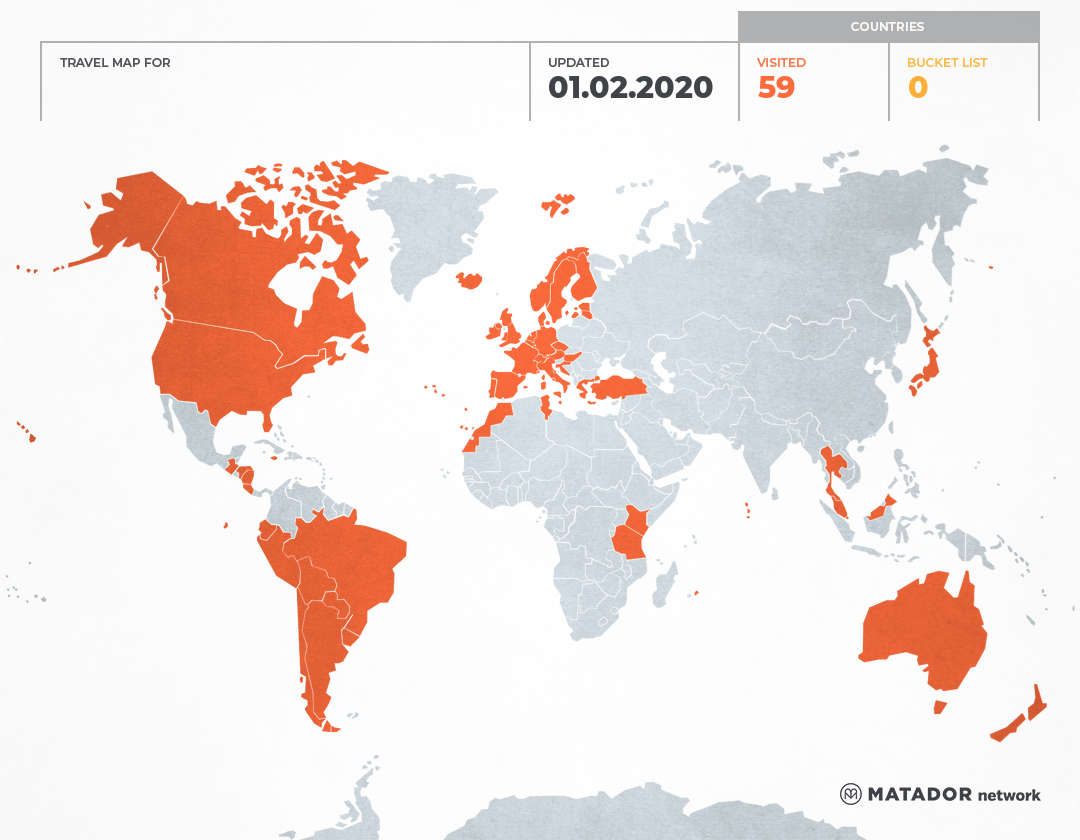 Anna Lundberg has been to: Argentina, Australia, Austria, Belgium, Bolivia, Brazil, Chile, Costa Rica, Croatia, Czech Republic, Denmark, Ecuador, Estonia, Finland, France, Germany, Greece, Guatemala, Honduras, Hungary, Italy, Jamaica, Kenya, Latvia, Liechtenstein, Luxembourg, Malaysia, Maldives, Malta, Mauritius, Monaco, Morocco, Netherlands, New Zealand, Nicaragua, Norway, Paraguay, Peru, Portugal, San Marino, Singapore, Spain, Sweden, Switzerland, Tanzania, Thailand, Tunisia, United Kingdom, United States, Uruguay, Vatican. Get your own travel map from Matador Network.
What does your travel map look like? Where have you focused your attention so far? Where are you going next? Share your bucket list in the comments below!